The application of metallic card clothing onto spinning carding machines has no limits and is used in the production of low, medium and high quality yarns:
woollen
worsted
semi-worsted
non-woven
cotton.

Since there are numerous solutions available for every spinning process, we always ask our customers for the following information in order to accurately determine the type of card clothing to use:
material to be processed;
microns;
fibers type and staple
length in mm;
deniers.

For cotton carding it is also necessary to know:
production in kilos per hour;
cylinder/doffer speed;
and the technical data concerning the machinery:
working width;
rollers diameter.

Once supplied with this information we can suggest the best combination of metallic wire for any type of fiber to be processed, thanks to the research and experience we have acquired in carding over the years.
Interlocking wire can be used successfully for various types of processing which require particular force in opening and breaking up the fibers, which usually occurs in the avantrain of the woollen carding machines and in Garnett machines. Interlocking metallic wire is the best solution in these cases and thanks to its "V" form it guarantees higher resistance without causing breakage or damage to the machine itself during processing.
A selection of interlocking metallic wire can be found in this page.
B base
H height
P pitch
A° angle
PPSI points/square inch
FR feed rollers
L lickerin
T transfer
C cylinder
W workers
S stripper
D doffer
Metallic wire for worsted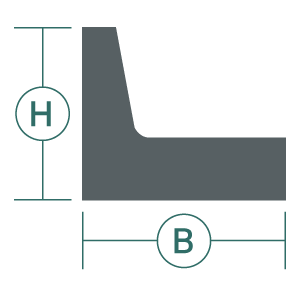 Flexible wire for transfer
Nr. 20 / 24 BIC – Nr. 21 / 25 BIC – Nr. 23 / 27 BIC
FOUNDATION Rubber Felt 4.00 mm 7 – 9 PLY
Flexible wire for workers and strippers
FOUNDATION Vulc rubber 1.0 mm 5 – 7 PLY
WIDTH 35 mm
HEIGHT 22.5 mm